Discover more from Encantada
Writing
New Comic Book, Anthologies, More
My family was originally supposed to spend the summer in Mexico. Then we cut it back to a few weeks in Costa Rica, but ultimately we did 5 days in Sedona, Arizona.
I've also been managing a health issue for the past few months that got progressively worse. So, I wanted to stay close to home given my worries about a potential surgery. I was in a lot of pain which slowed me down, including slowing down my writing and thus this newsletter. Update about that health issue, I will not need surgery and I'm expected to be fine in a few months.
Anyways, Sedona was nice. It was very hot and now I have no interest ever moving someplace hot. Ever.
Here's some pictures from Sedona.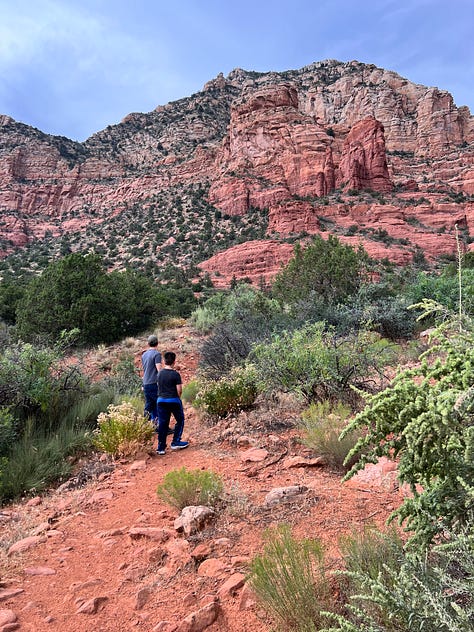 CATRINA'S CARAVAN
My first comic book comes out August 23, Catrina's Caravan from Chispa Comics / Scout Comics. It was illustrated by Eliana Falcon.
Here's what it's about:
A strange carnival arrives at the edges of a midwestern town, with a sinister somebody hot on its trail. The owner of the carnival-mysterious, masked Catrina-shocks onlookers with a gruesome tale. In Chicago, a mother gets on the subway with her young son, who to her chagrin wears a lucha libre mask. A woman passenger explains that she, too, was once obsessed with wrestling... until her mother objected. Then she went to gristly lengths to follow her dreams.
You can order it here.
QUALIA NOUS VOL. 2
I will have a poem titled "Set Me on Fire" in QUALIA NOUS VOL. 2 edited by Michael Bailey.
The anthology includes a stellar lineup including Stephen King, Chuck Palahniuk, Zoje Stage, Gabino Iglesias and more.
My poem will be accompanied by this lovely artwork from Pat R. Steiner.
BLEAK MIDWINTER
I will have a short story appearing in BLEAK MIDWINTER titled "The Warmth of Snow." BLEAK MIDWINTER is being edited by Lindy Ryan and the anthology will be published by Crooked Lane.


MADNESS & WRITERS
The documentary team at MADNESS & WRITERS unveiled a very cool new poster. See below.
For more about the documentary go here.
Upcoming Events
September
September 9th: Printers Row Lit Fest
September 16th: Pixel Project Reading & Q&A
September 30th: Starke County Library, Beyond the Book Festival
October
I have like … 5-6 events scheduled in October. I'll list those out next time.
Other
Cover reveal for FORGOTTEN SISTERS is soon. I promise!
-C