Discover more from Encantada
Writing
Forgotten Sisters Cover Reveal, Preorder and More
FORGOTTEN SISTERS COVER REVEAL
I revealed the cover of FORGOTTEN SISTERS last week. I do love the cover and the overall concept. Blurbs are still coming in, but so far thank you to everyone who has read and blurbed it, Chris Golden, Hailey Piper, Paul Tremblay, Eric LaRocca, Rachel Harrison, Alex Segura and Alma Katsu.
I will be sending out more advanced reader copies this week. So if I missed you, no, I didn't. It's coming. I promise!
The book is also available for request on NetGalley.
An important note on preorders
FORGOTTEN SISTERS is available now for preorder. Please consider preordering it. This is my traditional publishing debut, so preorders are very important to me.
You can preorder FORGOTTEN SISTERS here.
Here is what this novel is about:
Sisters Anna and Jennie live in a historic bungalow on the Chicago River. They're tethered to a disquieting past, and with nowhere else to go, nothing can part them from their family home. Not the maddening creaks and disembodied voices that rattle the old walls. Not the inexplicable drownings in the area, or the increasing number of bodies that float by Anna's window.
To stave off loneliness, Anna has a podcast, spinning ghostly tales of Chicago's tragic history. But when Anna captures the attention of an ardent male listener, she awakens to the possibilities of a world outside.
As their relationship grows, so do Jennie's fears. More and more people are going missing in the river. And then two detectives come calling.
They're looking for a link between the mysteries of the river and what's housed on the bank. Even Anna and Jennie don't understand how dreadful it is—and still can be—when the truth about their unsettled lives begins to surface.
NEVERWAKE
NEVERWAKE is now available from Crystal Lake Publishing. It includes my short story "Nighttime Ritual."
You can order it here.
PRINTERS ROW LIT FEST
I attended Printers Row Lit Fest a few weeks back. I was on a panel on Horror and Thriller Writing with author Juan Martinez (EXTENDED STAY). It was moderated by author Jeremy T. Wilson.
After the panel I signed books, and I'm delighted that my books were sold out. I'm sad however that some people there weren't able to get my books, but overall it was a lovely time.
THE SHOEMAKER'S MAGICIAN IN BOOK RIOT
My novel THE SHOEMAKER'S MAGICIAN appeared in Book Riot's Thrillers About Cursed Movie Sets.
I totally also appreciated the shout out they gave to autism representation in the novel.
"But when her autistic son's life is put in jeopardy, Paloma will be forced to re-evaluate her involvement in the case."
THE SHOEMAKER'S MAGICIAN is the most personal book I've written to date.
You can order it here.
Gamut Magazine
Gamut Magazine has returned and is now a publishing house, magazine, and writing academy. I'm a fiction editor for the magazine. Submissions are currently closed, but we reopen October 1.
Life Stuff
Riot Fest
I attended Riot Fest last weekend. I have been sad all week that I have to wait until next year for Riot Fest again. I had the best time I've had in a very long time in Douglas Park on Chicago's West Side. I can't express that enough.
Also, seeing The Cure live was a dream come true.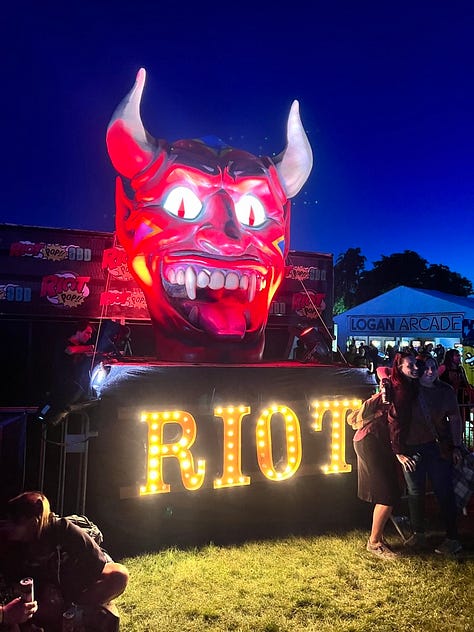 Other Life Stuff
I've been a little overwhelmed recently, in a good way. I have a lot going on. The kids are back in school. One kid changed schools, so there has been a transition period there. I also am very happy to report that I am now employed full-time again! I will be the director of sales and marketing for a technology firm. I'm absolutely thrilled and being able to have that part of my life settled has significantly increased my peace.
It's no secret that the last six months were challenging, but things have improved drastically. Everything has worked out incredibly well. I learned many painful lessons, but still, they were lessons that I needed to learn.
It's quite strange, but as someone who believes in the power of positive thinking and manifestation I can only say, I manifested everything good that I have now and everything worked out for me. I really and truly believe that. One attracts into their life what they are. You have to be in alignment with the things that you want to attract and so, if there are things that fall away from your life during your spiritual journey, it's because you already learned whatever lessons those things were meant to teach you. If you are not in alignment with those things or if those things are not in alignment with you then they will fall away. I'm where I need to be, with everyone that is meant to be here for me. It's that simple. You never lose what's meant for you.
So much of the changes that have happened the past few months, I'm finally able to see that I've been put in a much better place, and onto a path I want to be on.
I'm able to write again. My creativity has been nonstop. I'm feeling much, much better emotionally, physically and spiritually. I'm working on four different book length projects and about six short stories, and more. So I have tons of creative work before me.
I recently saw a hypnotherapist to work through some limiting beliefs that I had been struggling with and the relief was nearly immediate. I'm also a big proponent of EFT (emotional freedom technique) tapping, which I'm also certified in. I'm also a certified Reiki Master. I don't work in or charge for these modalities. I post EFT tapping videos on TikTok because I like sharing EFT with people. EFT changed my life. I started practicing in 2019 and I attribute so much of my success to it. I became certified in them for me. To work on myself, and it's helped. Hypnotherapy, EFT tapping, reiki, meditation, journaling, affirmations, gratitude have helped me process life's challenges, address any negative thoughts, and replace them with positive thinking and where I want to be.
Overall, focusing on the present has helped tremendously, and realizing that many of the thoughts that I have that hurt me are just not real. They're just thoughts, and I have the power to pick a new thought, and focus on the eternal present, which is beautiful and peaceful and abundant.
The Artist's Way
I promised I'd go through all of this with you here on Substack and I fell off, because I was not feeling well. I'm going to start from the beginning this week discussing The Artist's Way and The Creative Way of Being. I'm sorry! I'll make it up to you.
Upcoming Events
I have no idea where I'm supposed to be or what's going on half the time, but I can tell you simply that I have a lot going on.
This Saturday, September 30th I will be attending the Beyond the Book Festival at The Starke County Public Library in Indiana.
Here is more information on that.
I'm sure there's more I'm missing, but that's all I can remember for now.
Be good to yourselves.
-C